Pegasus Racing Wins 18ft VelamareSkiff Cup!!!!!
'Pegasus Racing' made this regatta their own by winning the two final races of the series yesterday afternoon (Friday). The emphatic nature of their victory was all the more remarkable for the fact that they won five of the ten races in the series. Howie and Mike, from southern California, have won the world title on two occasions, while their forward hand Trent hails from Sydney and is the son of Trevor Barnabas who won the worlds on no less than five occasions before he retired from Skiff racing last year. At the prizegiving yesterday evening, Howie paid tribute to his regular crew Mike, and thanked Trent who he said was the strongest person he has ever sailed with.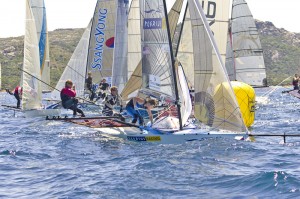 The British team of Andy Richards, Andrew Fairley and Dave Richards, sailing 'Radii', also finished well to take second position, with Australians Andy Cuddihy, Brent Dennis and Gerard Smith in third on 'Fisher & Paykel'. Last year's winner of this event, the ever popular John Winning, sailing 'Yandoo' this year with Andrew Hay and Geoff Bauchop, finished fourth.
Races 9 and 10 were sailed in light breezes, and were won in fine style by the 'Pegasus Racing' team. The final race brought a surprise for seven boats that were disqualified for being over the line at the start, perhaps a record number for this class.
The fleet of 20 Skiffs, from nine countries, enjoyed an outstanding regatta in the most beautiful setting of the Golfo della Saline, hosted by the VelamareSkiff sailing school, which is part of the Metauro Mare group.
This regatta was part of a three-event international series, the first of which took place earlier in the year, with the final one scheduled to be sailed in San Francisco in September. This event was also one of the Euro Grand Prix series, which began at Carnac in France last month.
Overall results, 10 races with 2 discards:
'Pegasus Racing' Howie Hamlin, Mike Martin and Trent Barnabas, USA, 16 points
'Radii' Andy Richards, Andrew Fairley and Dave Richards, GBR, 23 points
'Fisher & Paykel' Andy Cuddihy, Brent Dennis and Gerard Smith, AUS, 32 points
'Yandoo' John Winning, Andrew Hay and Geoff Bauchop, AUS, 35 points
'Barron and Smithers' Peter Barton, Martin Borrett and Ian Turnbull, GBR, 35 points
'Rag & Famish' Grant Rollerson, David Cunningham and Chris Cleary, AUS, 42 points
'Hermes' Ed Browne, Mark Tait and Guy Naylor, GBR, 43 points
'GP Covers' Flemming Clausen, Thomas Ebler and Soren Clausen, DEN, 67 points
'Exel' Stephan Rueger, Ueli Marti and Kevin Fuchs, SWI, 69 points
'Space Models' Mike Keser, Christoph Muller and Thomas Eggersdorfer, GER, 70 points
'Groupe Sefico' Christophe Orion, Eric Caiveau and Philippe Vallee, FRA, 85 points
'Velamareskiffteam' Duccio Colombi, Gianluca Pellegrini and Bernabo Visconti, ITA, 92 points