MotionX Announced As Top 25 All-Time Paid App for iPhone
SANTA CRUZ, CA–(Marketwire – May 7, 2013) – As the Apple® App Store approaches 50 billion downloads, Fullpower® is proud to share that MotionX®-GPS Drive was just announced as one of the Top 25 All-Time Paid Apps for iPhone®.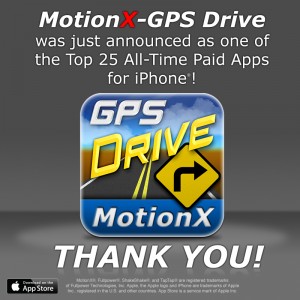 Important Links:
App Store Top 25 All-Time Paid Apps
Facebook fan page: www.facebook.com/MotionX
Follow us on Twitter: www.twitter.com/MotionX
About Fullpower and the MotionX Technology Platform
Founded in 2003 by a world-class team, Fullpower's MotionX technology platform leads the wearable technology revolution. The MotionX Technology Platform is a suite of tightly coupled and integrated firmware, software and communication components that are the building blocks for new breakthrough non-invasive, wearable wireless devices. With a broad IP portfolio including several dozen patents, the MotionX Technology Platform powers leading solutions from companies such as Nike, Jawbone, Apple, Comcast, Pioneer, JVC, and others. Fullpower showcases its MotionX Technology Platform via its iPhone and iPad applications, which lead the iTunes store in the Medical, Health & Fitness and Navigation categories.