Big Melges line-up in Sweden
–Yachting World, August 4 2004
A total of 83 Melges 24 crews from 14 nations and three continents are making their way to Marstrand, Sweden to compete in the 2004 Melges 24 World Championship from 9-13 August. Crews from as far a field as Australia and California will join the top European teams for what promises to be another very closely fought regatta.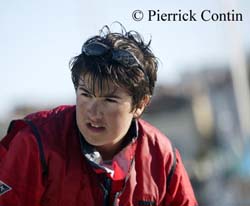 Reigning world champion Shark Kahn (pictured), who turns 15 today, will be back with his victorious 2003 crew of Richard Clarke, Mark Christensen, Brian Hutchinson and Brian Lee to defend his title. Amongst those leading the charge to divest Shark of his crown are 2001 world champion Flavio Favini, reigning European champion Luca Santella, 2001 European champion Cedric Pouligny, Sebastien Col, Keith Musto, Rob Smith, Stuart Rix, Kristoffer Spone and Shark's father Philippe Kahn.
Five time Finnish open champion Kenneth Thelen has his sites set on winning a record third Corinthian (amateur) world title while Norwegian Kristian Nergaard will be equally keen to pip him to the post to take a second Corinthian win.
Ten races are scheduled over five days on windward/leeward courses just to the west of Marstrand Island.