July 22nd, 15:30 utc – lat 25 25 N, lon 142 23 W
Five times during the dark and squally night, Richard and I wanted to jibe either to stay in front of a windy squall or to take the radical right shift induced by the cloud. Yet just the two of us need over 30 minutes to jibe safely at night. We are comparing our track with racing machines crewed by more than 10! So instead, we are simply sailing on our line waiting for a more persistent shift. This is the first time in the race that we can't do what we want to do from a navigational and tactical point of view. And, of course, if sailing with two was as simple as sailing with twelve, the America's Cup or the Volvo Ocean race would be sailed with just two. This all makes it even more fun and challenging for us. It's like playing golf against Tiger Woods with just three clubs! When you keep up or are slightly behind, you feel very good and proud. That's how we feel. A great feeling.
The sky this morning is 70% overcast and the wind is light, getting lighter. This is not record setting weather for sure. The privilege to be sailing in the middle of the Pacific Ocean, just the two of us, and the empowering feeling that it gives us, makes all of that feel secondary. We sure are going to continue trying more than our best!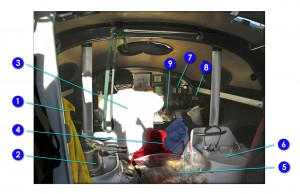 In our pod you can see from left to right:
1. Yellow foul weather gear hanging, drying.
2. The camping gas stove with the pressure cooker. All of our meals are vacuum bagged and get thrown into the pressure cooker.
3. Philippe doing the navigator's job, scribbling on the board.
4. A red fleece and a blue cushion, I sleep on the nav station seat and that is my pillow.
5. In the forefront, vacuum-bagged meals. These are our total rations for the day.
6. Our sink, only salt water, manual pump. Good to clean dishes and stuff.
7. On the nav station panel, right, you can see the handsets that control the two Iridium satellite systems (the best!) and the Fleet-33 (faster but you can't really count on it).
8. The fantastic M-802 single side band is the box on the lower right corner.
9. Note the Logitech trackball by my right elbow, mice are not an option with the elements, the constant motion and the heterogeneous reflective surfaces. We use Velcro extensively and the wiring is non-trivial. Everything is at least twice redundant.