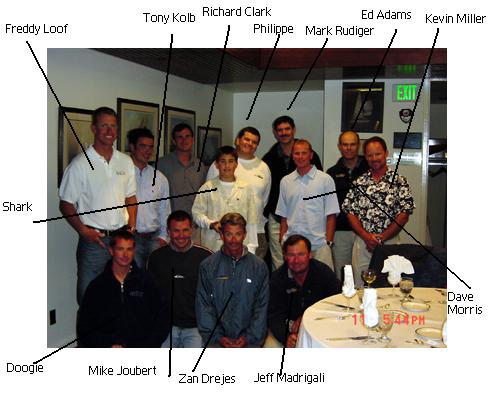 The night before the start there is great appreciation for a nice quality meal. Shark was in rare form. He just decided to drink coke out of a wine glass and have it show in the team picture above and get his Dad in trouble… Not he's only 12 and is turning to be both a solid sailor and quite a prankster. (Zan's head is hiding Shark's right hand that is holding the glass… )
The start of the race will be in the changing tide. Every 12 hours or so the San Francisco alternatively fills with water and empties with water as the tides change. When the water is flowing into the Bay, from the Golden Gate, it is "flood tide" and when water is flowing out it is "ebb tide". We will be starting at the beginning of an ebb tide, which means that the tide will help all boats pass through the Golden Gate.
On the starting line we'll have 2 very large boats, Mari-Cha and Zephyrus, both much larger than we are and 3 smaller boats slightly smaller. We are used to competing in One-Design classes where all boats are created equal. So this incarnation of the Pacific Cup presents huge challenges for Pegasus Racing. We are on an impossible mission of beating giants. This should make this race a thriller. At least for us!
If my assistant Faye is able to snap a picture from a chase boat at the start, we will have the only PictureMail on this site not taken from our boat. We'll still be using LightSurf technology to get it on the site promptly. For those who have sent me email about LightSurf's Instant PictureMail technology, please wait a couple of months and you will be able to do your very own with new offerings from our partners at Sprint in the US.