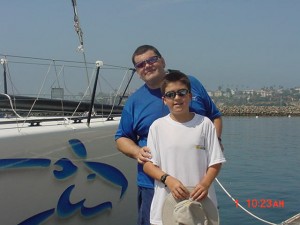 Our Starting line is just off San Pedro in the port district of Los Angeles. Then we must leave the Santa Catalina to port (left side). After that, its free-style to Honolulu, we get to pick our course. Of course the shortest distance to Honolulu is a great circle. And every year a couple of boats attempt that route. You end-up sailing less miles. However 90% of the time that direct route will take you right into the heart of the Pacific High, the center of the local anti-cyclonic zone that is totally becalmed. And that is very bad news on a sailboat. I can safely say that it is very likely that we at Pegasus 77 will end-up going enough South to find better trade winds. But before we depart, I can't talk about our strategy as our worthy competitors could get wind of it. Speaking of worthy competitors, this is going to be a very competitive race with Merlin, Chance, Pyewacket all having a good shot at the barn door trophy.
Samuel "Shark" Kahn my 11 year old son didn't sleep much last night. Adrenaline is pumping. It's his first offshore race and I think that he is the youngest by quite a bit in this fleet. Shark will stand a full watch and carry his own weight across the Pacific. This is a big international competitive event for a developing young man.
Yes, I'm a proud Dad today!