Saturday June 30th: Weather update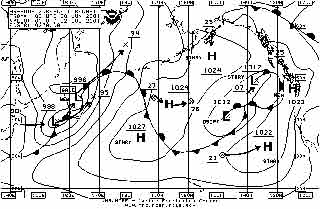 We have a 1024mb high pressure near 32n/131w this morning, Saturday the 30th, with the high weakening some during the next 24 hours as we prepare for our race. We, of course would very much like to have a strong, well formed high for a fast race.
For the start of the race, tomorrow, we expect an onshore flow, WSW winds to be around 10-12 kts and we should have some low clouds and patchy fog in the morning, but marine layer likely thin enough for clearing along the shore around 11am.
We should maintain good NW to NNW wind flow on Monday to the west of 130w.
Forecasting precisely passed 3 days is challenging. That is one of the challenges of Transpac: Being good enough meteorologists and strategists to take full advantage of changing weather patterns. We will be on the ocean for more than 7 full days of racing and much will change in the Eastern Pacific meteorology.